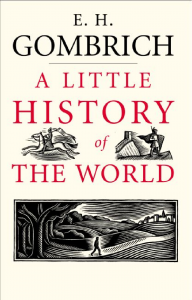 Since the middle of last year I've been digitally archiving the books I read on the website Goodreads. Why? I read so many books while writing Man of War that I had a hard time keeping track of them all. A virtual bookshelf not only helps me remember what books I've read, but what's inside them. I think 85% of our learning is visual (don't quote me on that), so I guess the "memory spark" I get from seeing a cover works.
In all, I read sixty-two books while writing Man of War, in between jetting off to reenactments and holding down a full-time job. I nearly lost my mind, and yes, my wife is the most patient person on the planet. I often make reference to this within its pages.
Here are my three favorite books from the sixty-two I mentioned before…in no particular order.
A Little History of the World, by E.H. Gombrich. Gombrich is a master storyteller and he's at his finest in this charming book. Wisely titled A Little History of the World, it often feels as though you're reading something he's recited dozens of times to a child.  He devotes most of his time to Western history, which is fine, and don't expect anything too in-depth. In fact, he pretty much ignores the American Revolution, which I'd argue deserves more than the line or so he dedicates to it. Still, it's a great introduction to history.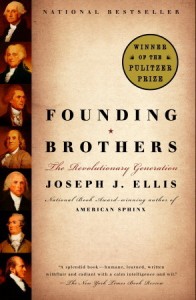 Founding Brothers, by Joseph J. Ellis. Far more in-depth than Gombrich's tale, Founding Brothers takes a look at a number of key events that helped shape our early republic. Often a challenging read, it's nonetheless a fascinating exploration into our Founding Fathers' deft political jockeying. The portrait he paints of the men is, not surprisingly, a heck of a lot more complex than your typical high school history class.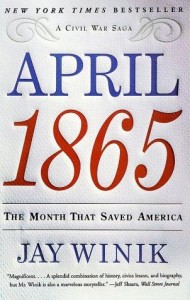 April, 1865, by Jay Winik. I defy any American to read this book and not become completely obsessed with The Civil War. While the raw material of this tumultuous month (the fall of Richmond, Lee's surrender at Appomattox, Lincoln's assassination and the subsequent manhunt for Booth) is already pretty captivating stuff, it took a diligent researcher and storyteller like Winik to put it all together in an engrossing package.