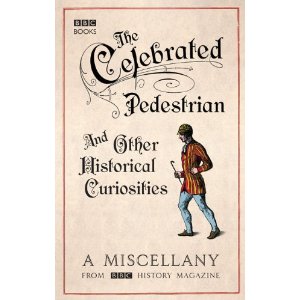 Here's something interesting I read the other night in a book called The Celebrated Pedestrian. This thin "toilet read" is a compilation of questions posed by readers of BBC History Magazine. (I prefer to read it in bed not on the potty, just in case you were wondering.)
In the chapter on language, one of the questions was, "how far back in history could we [English speakers] go and still be understood?" Great question.
The answer is a bit complicated and there's still some debate going on about it, but one of the authors focuses on a very significant change that occurred in England sometime between 1390 and 1420. This change was called the "Great Vowel Shift," and it came about after "the abandonment of French as the language at court." (You see, when the Normans conquered England in 1066, they naturally brought their language along with them, and in doing so demoted the local Saxon tongue to second class status. Some Brits have argued that this is where their obsession with hierarchy started.) When the French language left court, it changed the way people pronounced their vowels. For example, the word mouse had once been pronounced moose.
Moose trap anyone?
Factoring in the vowel shift with a loss of inflection (before 1100 English was an inflected language like German), the author states that present-day English speakers "would seriously struggle to understand the spoken word around 1300." Or rather, Fectoing in da voowel shiift…well, you get the picture and I don't want to try to write like that for one second more.
Did this vowel shift occur only once? Hardly. In fact, it's happening right now…in America.